Have you ever heard of 'Dating Sunday'? For those trying online dating, it's a day worth learning about. Here's your guide to one of the biggest days online.
Dating Sunday is the name given to the first Sunday in January, and for the online dating world, it's a productive one. In fact, the data gurus at Global Dating Insights describe it as "statistically the busiest day for online dating activity in the entire year". In other words, if you're looking for new connections in 2020, this is the one day you don't want to miss.
Does SilverSingles See the Dating Sunday Effect?
Dating Sunday falls on the 5ᵗʰ of January in 2020 and, based on past years, it looks like it's going to be a big one on SilverSingles. After all, Dating Sunday 2019 was one to celebrate. Not only was there a 27% increase in singles being active on our platform, there was also an almost 50% increase in all online actions.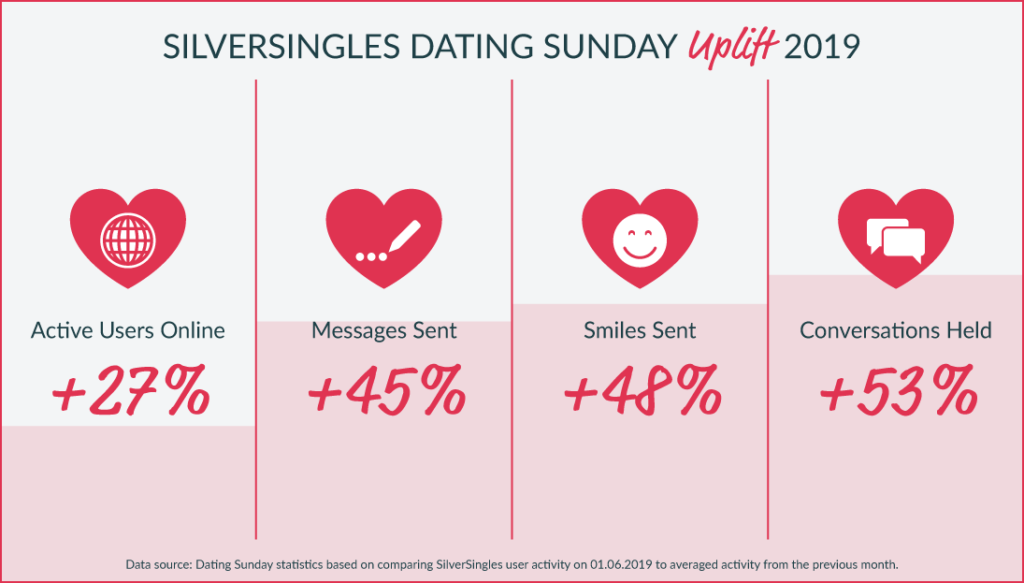 SilverSingles Dating Uplift 2019
Active users online: +27%
Likes sent: +48%
Messages sent: +45%
Conversations held: +53%
More likes, more messages, and more conversations: statistically the first Sunday in January is a productive time to be online. 2020 is set to continue the trend, with the SilverSingles team forecasting January 5 to be the busiest day of the entire year.
Why is Dating Sunday So Popular?
So why would the first Sunday in January be so popular for online dating, year after year? SilverSingles CMO Luciana Telles thinks that it is because "Dating Sunday falls during a time period when singles are extra-motivated to look for online connections."
She goes on to explain just how perfect the timing is: "It's the first weekend after New Year's Eve, which means that people have not only set themselves New Year's resolutions, they've had a few days to think about how to put them into practice. Additionally, it's about 6 weeks out from Valentine's Day, meaning that singles have plenty of time to meet someone interesting before Feb 14".
How Can I Join In?
Convinced to come and join the fun on January 5ᵗʰ, but not sure how you should take part? The easiest way to join in is to plan your day so that you can be on the SilverSingles app or the desktop site on Sunday afternoon. If you want to get really specific, aim to be online between 12 and 3 pm local time – that's when the messaging excitement is most likely to reach its peak.
To really make the most of Dating Sunday, you'll also want to prep your online presence in advance. In particular, make sure you've paid attention to these three key areas:
1. Dating profile text:
Before January 5ᵗʰ arrives, give your dating profile a New Year's makeover. It's the ideal way to get ahead of the game. You don't need to worry about writing pages and pages of information. Instead, try to focus on highlighting a couple of your hobbies or passions. Above all, make your profile engaging and positive and it will be instantly compelling.
2. Profile photos:
The first rule of an online dating photo is that you should have one! Profiles without pictures are much more easily skipped over, so add some pics to become unskippable. The photos you choose don't need to be elaborate or professional – in fact, something natural and approachable is often best. Above all, make sure that your pics are up-to-date (and that they show off that lovely smile).
3. Messaging technique:
If you're not normally one to make the first move, start psyching yourself up now! Being proactive pays off in life, and online dating is no exception. The good news is, on SilverSingles you can ease into messaging with someone. If saying hello out of the blue feels too intimidating, you can even start out by sending them a Smile, or by liking one of their photos. It's a gentle way to let someone know you've noticed them.
Are you ready to take part this January? Get the ball rolling by signing up today to create your profile. Just fill in the registration box at the top of the page, or head to our homepage to get started.
Data source: Dating Sunday statistics based on comparing SilverSingles member activity on 01.06.2019 (Dating Sunday 2019) to averaged SilverSingles member activity from 12.06.2018-01.05.2019. All data used is anonymous and cannot be traced back to the original user.